Those who know me will attest that I'm not a particularly handy or crafty type person. In fact I have been known to duct-tape the cuffs of my jeans, and my kids once asked, when they were quite young, "Mama, what's that?" when they first laid eyes on an iron.
Those who know me also know I am not religious, by any traditional measure. I don't practice an organized (or even disorganized) religion in a formal place of worship, though I do seek mystery and spirituality the the world around us, when I'm not busy seeking laundry or a missing soccer cleat or my inspiration for a book.
So as a non-crafty, non-religious-type person, it is odd that I love the holiday season so much. But I do. Long before humans put the current names on the current religious holidays, the earth turned away from the sun, and the days got colder and shorter. This changing of the seasons toward the shortest day has always mattered. The rituals of lighting candles, hanging evergreens, and singing have been human instincts long before our religions incorporated them into today's traditions.
I love this time of year. It marks the death of the old year and the birth of the new, the start of winter and, paradoxically, the start of lengthening days toward spring. So yes, my non-religious, non-crafty self gets very excited come holiday season.
With all that said, I have one spectacular holiday tradition that I'm pretty proud of, and thought I'd share. I'm particularly proud because, while it looks adorable, it really comes from a pathological inability to throw away cute socks or good books. Also it involves no sewing (*shudder*) or god forbid…GLUE GUN. (They terrify me).
So what is this magic? A picture book advent calendar! This began when I realized that:
We owned a ton of holiday/winter themed picture books
They didn't get much attention the rest of the year
My kids were starting to move on to chapter books but I wasn't willing to give these up
 I have a lot of unmatched tiny socks for absolutely no reason
A bunch of years ago, I decided to take the holiday books out of circulation the rest of the year, hiding them away in my closet (not with the rest of the Christmas stuff, since I need them on December 1st, and I definitely DON'T need to be rifling through boxes of ornaments and stockings at 11:30 pm on November 30th, thanks for asking). The first few years we didn't have quite enough books, so I borrowed a few from the library or from friends. But luckily or unluckily, truly gorgeous holiday classics keep being published, and while I try to be disciplined about picture books (since my kids are teenage-ish now), sometimes I have to add a new one. Anyway, I keep them in a pile in my room, and bring them down once the day's sock has been opened.
Here are the books: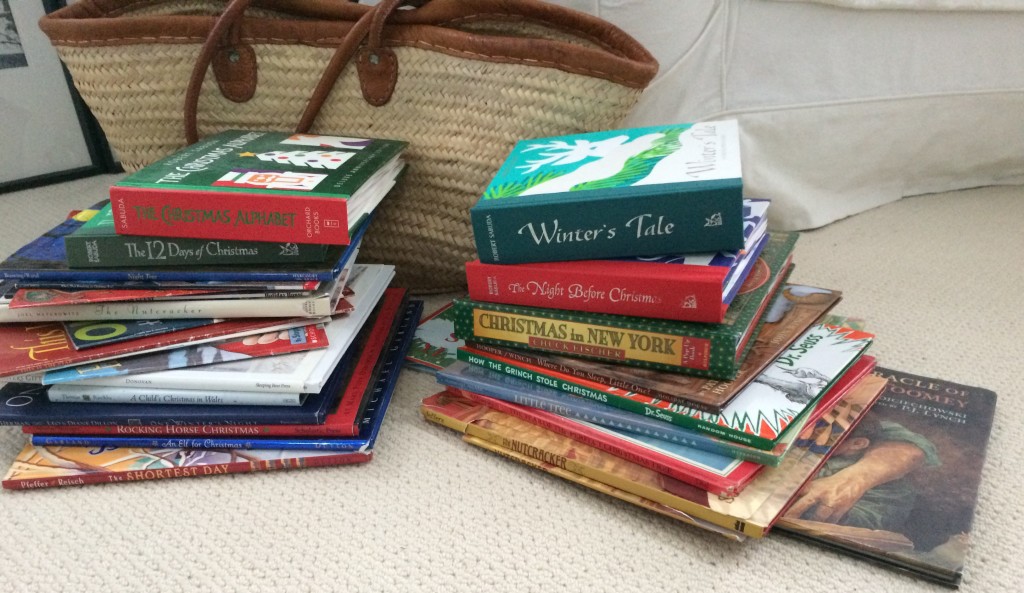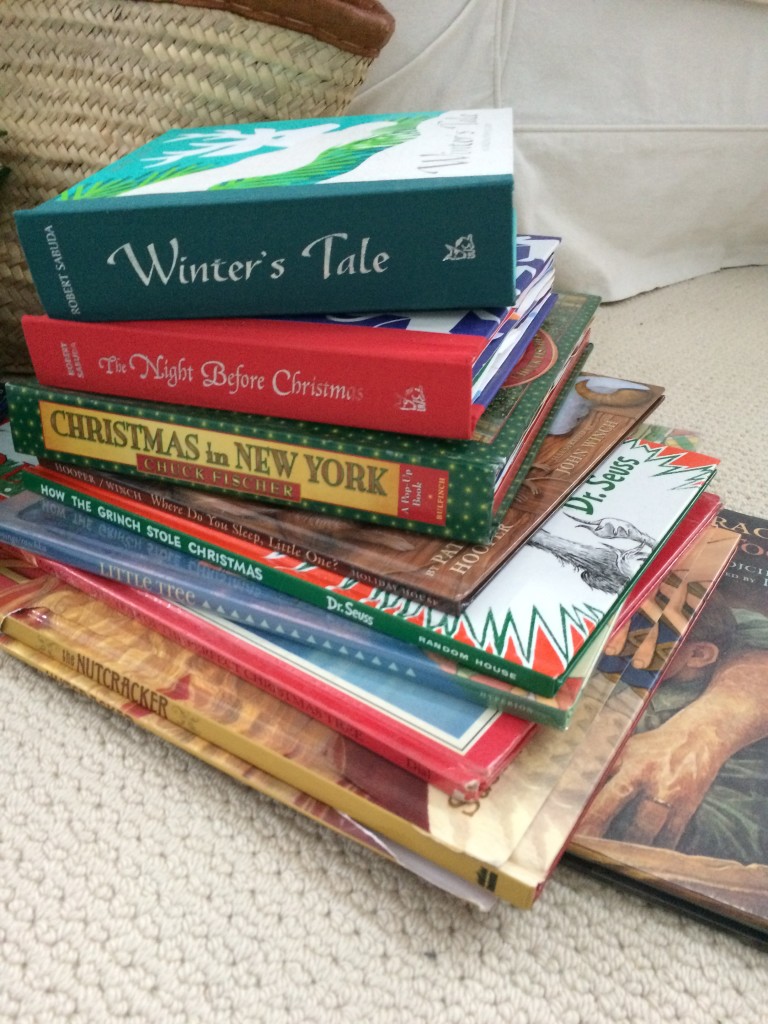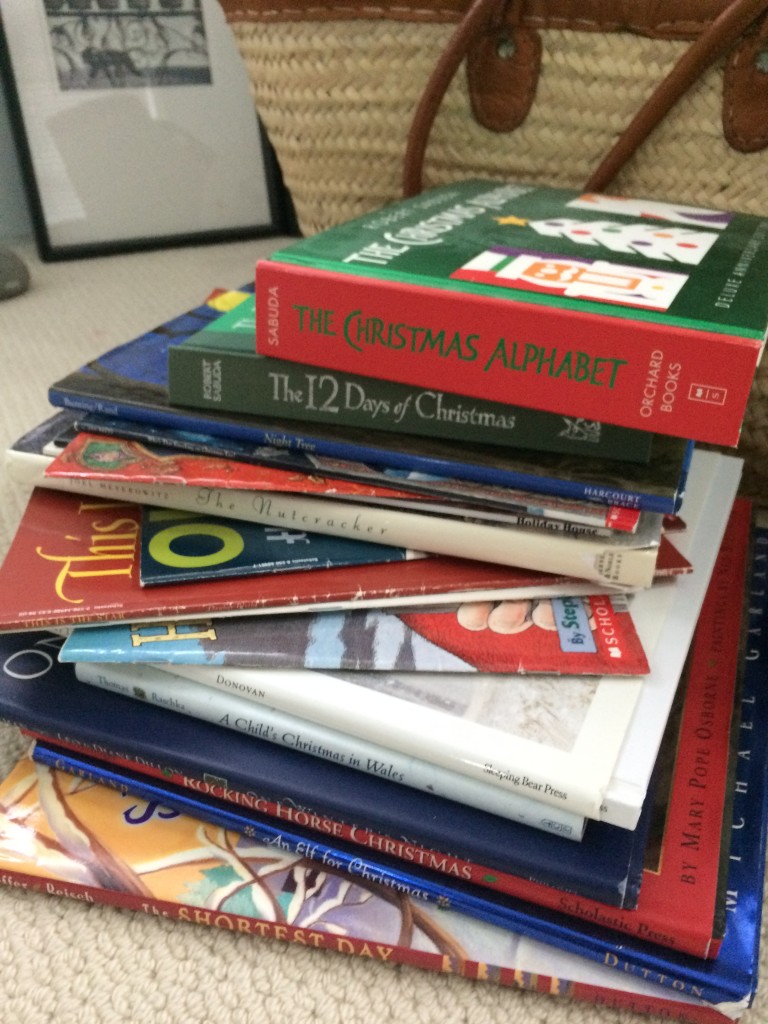 While there are lots of good ones, some of the favorite titles are:
The Christmas Miracle of Jonathan Toomey
Olive, The Other Reindeer
The Polar Express
How the Grinch Stole Christmas (duh)
The Shortest Day
A Child's Christmas in Wales
Little Tree
The Year of the Perfect Christmas Tree
Who's That Knocking on Christmas Eve
Night Tree
All the gorgeous Robert Sabuda paper art pop-up books
I should also note that, as a God's-Greatest Hits kind of family, where we celebrate both Jewish and Christian traditions, most of these books trend toward the secular, though there are a few really lovely ones (like One Winter's Night by Diane Dillon) that tell the Christmas story in a way that allowed me to cover the facts without making me too uncomfortable with the religious aspects.
As pictured here, I took twenty-four tiny little baby socks and mittens, a piece of ribbon, and some clothespins, and set them up on the wall.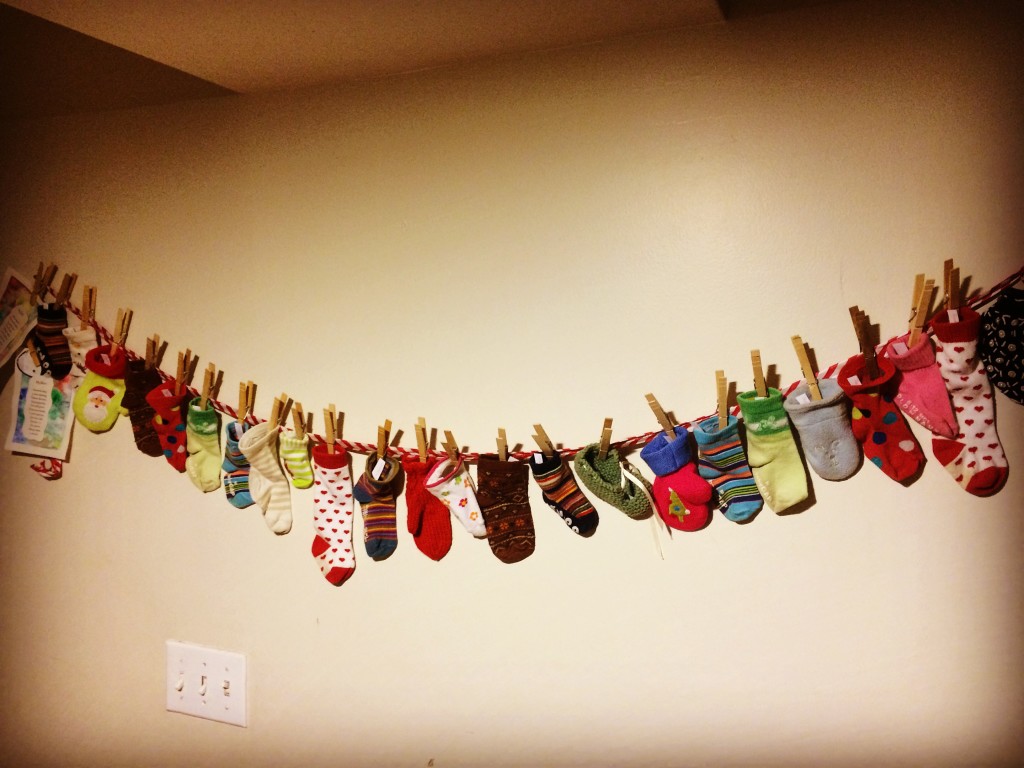 I typed up the book titles, printed them out, and cut them into little strips that could be tucked into the socks. Some days I also tucked in a marble, a tiny eraser, a chocolate, or some other little treat. (But not all days…because kids, like dogs, are easily trained, and after a few disappointed looks when "only" the book came out, I backtracked.)
Some titles correspond to specific days — we have a wonderful book called The Shortest Day, all about the solstice and the traditions that have surrounded it, from the druids to modern day — and that one gets read on December 21st. The Night Before Christmas, of course, is in the last sock. The Nutcracker, on the years we've gone to the ballet, is on that date. But otherwise, I just shove them in there.
My big grown-up kiddos still get excited when the familiar titles come out. Sometimes we have to delay a reading because of homework or late night hockey, sometimes the teen listens with one ear while checking his phone, but regardless, the tradition is still going strong. And I love revisiting these books, and seeing the tiny socks each year. Especially because no glue gun was required.
ALSO!
As mentioned above, we are Jewish and Christian, and so celebrate Hanukkah and Christmas. While there is always more hoopla for Christmas, I will add that I also have amassed a rather wonderful collection of Hanukkah books, and the top ones do come out on the eight nights of Hanukkah. (Though there are no socks. Sorry about that).
A few favorite Hanukkah books, for those who might want them:
Hershel and the Hanukkah Goblins
The Hanukkah Guest
A Light in Every Window
Happy solstice season, however you celebrate!