UPDATE: Honestly compels me to admit I thought I posted this over two months ago. And I didn't ever post it, which is more than a little bit embarrassing. So…um. Well. Here you go. A blog post.
*skulks off*
On May 2nd I got to go back to one of my favorite bookstores in the world, Jabberwocky, and have a party for The Family Fletcher Takes Rock Island. It was a blast. There were new readers, and old friends, and of course whoopie pies. (Because I'm of the opinion that all good launch parties require whoopie pies, though I've learned cupcakes can work too…please note these bookish cupcakes we had at Blue Bunny bookstore just last weekend!)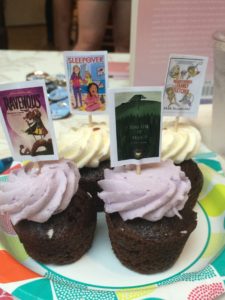 Second books are very different beasts than debuts, for a bunch of reasons. Not better or worse, but just different. Expectations are lower — authors know what to expect, and how it goes — or higher — authors hope that readers and librarians will be excited for the new title! Authors do less promotion — they know it doesn't have a real impact on sales, or they do more promotion — they hope they have a base of devoted fans who will rush out for the new one.
Mostly, for me, I was just deeply, totally grateful that I get to do this gig. As I say all the time at school visits: "I lie to children for a living. It's a great job!"
Anyway, for those of you who couldn't make it, I'll share my thoughts here. I'm also happy to send along fun bookmarks, signed bookplates, stickers, and more if you or your kiddo want some fun Fletcher swag. (Sadly I can't send a whoopie pie, as there are none left. My son, in a HUGELY thoughtful and generous gesture that will pay dividends for years, actually saved me an espresso cream whoopie before they were all gone. That was true love).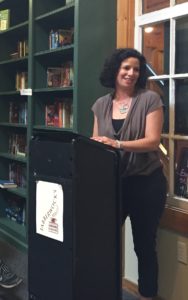 In some ways it's hard to believe it's been two years since I stood here and talked about The Misadventures of the Family Fletcher, and in other ways that feels like ages ago…and that Sam and Jax and Eli and Frog, like my own kids, would be so much older, bigger, farther away from me.

But in books, thankfully, we can slow down the clock, so even though it's already been two years, I can bend time, and pretend only a few months have passed.

The Family Fletcher Takes Rock Island takes place just a few months after the first book ends, but it's more of a companion novel than a sequel. As the cover suggests, it's a summertime story, and I have to tell you…it was a delight to write. It really was.

Writers often tell horror stories about second novels, about trying to follow up a debut with something new, and feeling paralyzed and unable to write.

That didn't happen. At least not with this book — ask me about the third book I just finished!

But truly, this story was easy…it unfolded on the page as quickly and happily as summer itself. Because here's the thing — I love summer. I really do. Part of it is primitive — I think our caveman selves know that more warmth and light means better chances of survival, and better food. And part of it is the luckiness of my life — my summers have been spent playing and working in beautiful places with people I love.

Now as it happens I know a lot of people in education reform, trying to make our schools better, so that they can better serve kids who are living and learning and working in this 21st century world of ours. And I hear a lot about Summer Slide — which, though it sounds delightful and possibly dangerous or at least very splashy — is actually all about learning loss over the summer. And I also know that summer months can be brutally hard for working families to figure out, because summer camps and childcare and all those things cost money. So I totally get the movement to change how we think of summer, this archaic and old-fashioned idea that started with the cycles of life on a farm.

I get it. Summer vacation — whole months away from school! — is a problem. I know that summer can't always be this perfect, and that the system might have to change. But one of the wonderful things about writing stories is that I GET TO MAKE THINGS UP. And so, for the Fletchers at least, I can ignore all the realities and just remember the best, more perfect fun that summer can bring.

Living here in New England, one of the reasons I love summer so much is that it feels so very short. On June 21st, the summer solstice, we celebrate and revel in the start of the season, but even as we're doing so we realize that, starting tomorrow, the days are getting shorter again. In books, and in real life, kids get older, and things change, sometimes for the better, and sometimes not. I hope that everyone who reads about the Fletchers on Rock Island finds a way to revel in this summer, to remember what they love best, from popsicles and blue tongues, to concerts in city parks, to cannonballs in the pool, to swims in the endless ocean.

Because loving those summer days is really what this book is all about.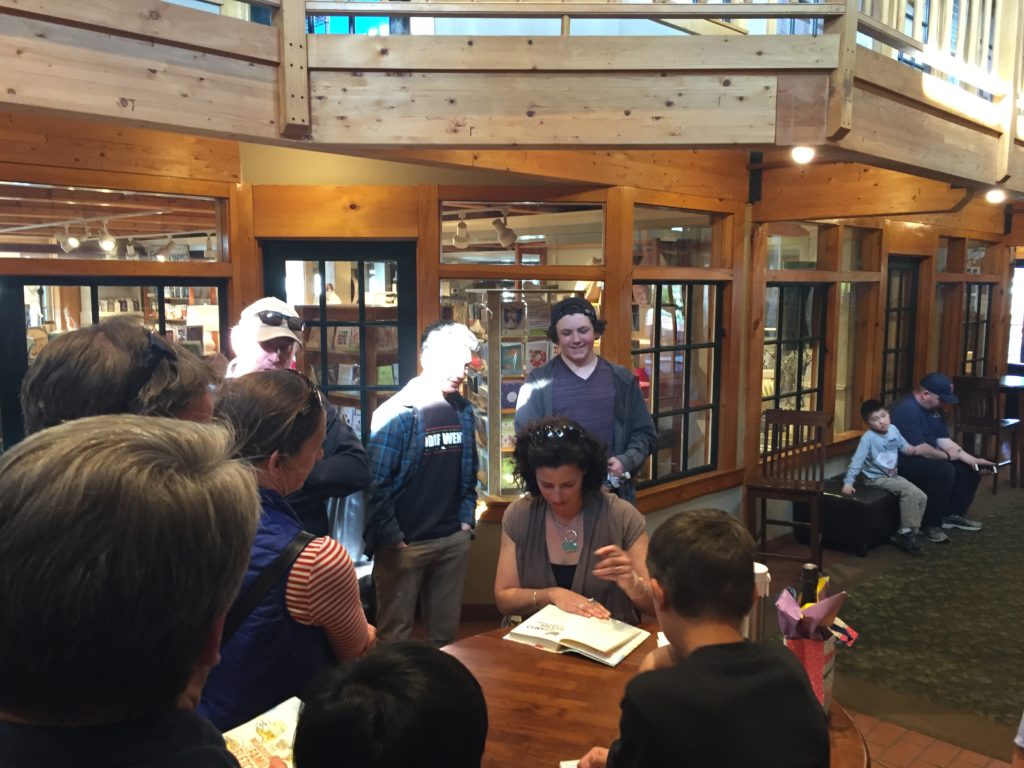 Anyway, I hope you get a chance to read The Family Fletcher Takes Rock Island. I hope you like it. And I hope your summer, like the Fletchers, is filled with ice cream, adventures, good friends, and the feeling that time really should stand still.