Hello, blog and website friends, and forgive my lack of information on bookish events. I've been in the process of updating my website for…well, longer than I intended, and the result is that events and other news have gotten short shrift.
SO! In an attempt to rectify that fact, (even as we finalize the updated website!) I am listing my next few bookstore and conference events below!
In addition, I'll remind all teachers, librarians, and other educators that I am now booking school visits, which are tremendously fun for me and the hundreds and hundreds of kids who get to hear about writing, revision, rejection, new books, and my cats. Please take a look here for more information.
If you want to see me in a bookstore or conference, here is a list of my next few events. I will update as I add more!
TUESDAY SEPTEMBER 19th, 6:30 PM TRIDENT BOOKSTORE, BOSTON, MA
I will be moderating a rather spectacular lineup of middle grade authors at Trident, and you can find out more about them and the event here.
TUESDAY SEPTEMBER 26th, 7:00 PM PORTER SQUARE BOOKS, CAMBRIDGE, MA
I will be joining debut author Darcey Rosenblatt to talk about what makes a story for kids. More information here.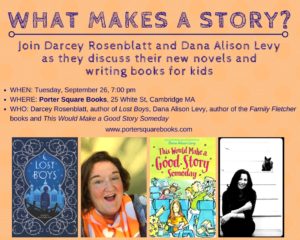 FRIDAY – SATURDAY, NOVEMBER 3-4, KIDLITCON, HERSHEY, PA
I am super-delighted to be joining authors Jen Swann Downey and Jordan Sonnenblick to talk about tackling tough subjects with humor at this amazing conference. More information and registration here.