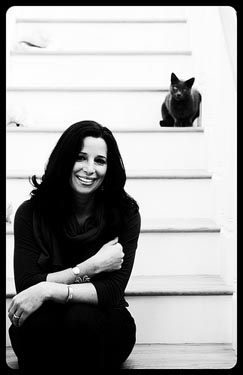 The Short But Honest Version Where I Talk About Myself In the Third Person:
Dana Alison Levy was raised by pirates but escaped at a young age and went on to earn a degree in aeronautics and puppetry. Actually, that's not true—she just likes to make things up. That's why she always wanted to write books. Her novels for kids, The Misadventures of the Family Fletcher, The Family Fletcher Takes Rock Island, and This Would Make a Good Story Someday have garnered multiple starred reviews, been named to Best Of lists, and were Junior Library Guild Selections. Also her kids like them.
The Long Version Where I Go Back to First-Person Because It's Not As Weird:
House cleaner in Paris; waitress in Santorini,Greece; assistant literary agent in New York; art gallery manager; MBA fast-tracker; executive recruiter; carob bean picker: which of these haven't I done?*
I realize this list might look ominously random. Usually, when you graduate from a prestigious university, you aren't encouraged to go clean toilets in Paris. Or, if you've earned a Master's in Business Administration, you don't generally try and write for a living.
But the real reason for this list is the same one that led Jennie, in Higglety Pigglety Pop! to go out in the world. I was looking for Experience. (And if you haven't read this Maurice Sendak classic then run, don't walk, to get it. I'll wait).
Over the years I have found Experience in many wonderful and sometimes strange places. Today my family and I live in a New England seaside town, where my children swim and play ice hockey in the backyard rink and catch turtles and sometimes let me tag along with them. The Husband (who was offered the carob bean job back when we were both 23…not that I'm holding a grudge or anything) and I enjoy largely peaceful lives, as long as the US and Canada aren't playing each other in Olympic hockey.
Writing is what I do now, and in some ways what I've always done. Stories, journals, professional writing; it has always been a vital part of my life. My stories are for children and young adults, as well as for people like me who, no matter what their age, are still looking for their next experience.
If you want to know more, check out the Extras…and be prepared for more random answers than you ever wanted!
*I was not a carob bean picker. I tried to be, in Crete, but Yanni wouldn't hire me because I wasn't a man. Good luck shattering the glass ceiling over the carob bean trees.