This Would Make A Good Story Someday
How to ruin a summer vacation in three words: Train. Family. TOGETHERNESS.
Dear Mr. Levitt,
I'm really sorry I wrote three hundred pages for my summer journal. I never meant to write so much, I promise. I planned on hanging out with my best friends, finalizing our Reinvention Project before middle school, and maybe starting my novel, if I could ever come up with an idea.
But look on the bright side…you only have to read it. I had to live through the whole thing.

Sara Johnston-Fischer loves her family, of course. But that doesn't mean she's thrilled when her summer plans are upended for a surprise cross-country train trip with her two moms, her younger sister Ladybug, her older sister Laurel, and Laurel's poncho-wearing activist boyfriend Root. And to make matters worse, one of her moms is writing a book about the trip…and that means allllllabout it, highlighting every ridiculous and embarrassing moment of Sara's life.
Sara winds up criss-crossing the country with a gaggle of wild Texans, from New Orleans to Chicago to the Grand Canyon and beyond. But as they travel, Sara finds herself changing along with the landscape outside the train windows. And she realizes that she just might come home reinvented after all.
Awards & Other Cool Things
American Bookseller's Association Summer 2017 "Indies Next Pick"
Junior Library Guild Selection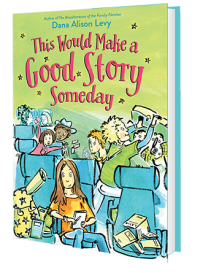 Delacorte Press/Penguin Random House
ISBN: 9781101938171
May 2017