Ten Random Facts About Me:
I played ice hockey in high school and still play occasionally
I cry at pretty much every musical, even the happy ones
I love camping and being in the woods
I am scared of the dark. This makes #3 difficult sometimes
There is a published book in the world with a photo of me sitting on the potty
Gryffindor
Montreal, Paris, New York, Rome — not sure which is my favorite city. (Okay, I lie. Paris. Always Paris)
My motto: Death before dishonor. Nothing before coffee
I was smelling a sock, trying to figure out if it had been washed, when I got the call that my book sold
My cats regularly fall out the windows of our house. They are fine if you were worried
Math is really hard for me
Five Even MORE Random Facts About Me:
Whenever I do school visits and someone takes photos, I appear to be imitating a blowfish. Seriously…not sure why but I do.
One of my cats is obsessed with being IN or UNDER. He'd be great in that Sesame Street segment on prepositions.*
I reread books…like, twenty, thirty, fifty times. Ask me how many times I've read Anne of Green Gables. Go on, ask me. (Actually don't…I have no idea. But A LOT).
I used to bite my sister when we were little and got into fights. In my defense I'm three years younger and was much smaller. I once got a tee shirt that said "Jaws" on the back.**
I love to sing and will do so at any opportunity, to the occasional chagrin of my kids.***
*An example of the cat who likes to be IN. I made him take his head out for the photo.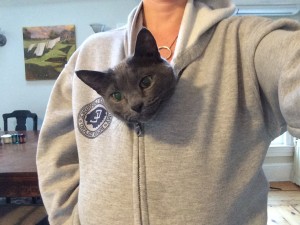 ** We mostly got along really well. See?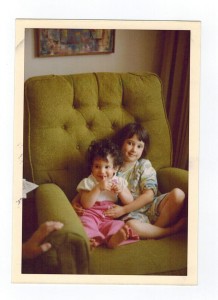 ***If you don't know what "chagrin" means, look it up. I might mean "total delight" but then again, it might not.