NEWS NEWS NEWS!
May 2017
It's out it's out it's in the world!! My latest book, THIS WOULD MAKE A GOOD STORY SOMEDAY is now on shelves in bookstores and libraries around the country. Head over to my blog or my books page for buying links and more!
April 2017
Department of Shameless Self-Promotion is back! THIS WOULD MAKE A GOOD STORY SOMEDAY comes out in three weeks, and has gotten some lovely reviews in the meantime! Kirkus Reviews writes:
"this story is never preachy; it ranges from laugh-out-loud funny to incredibly moving, and the voices are true. Fans of Levy's Fletcher Family novels will be happy to hear more about Frog's friend Ladybug, Sara's little sister…Ignore the title: this is a good story already."
And Booklist, in a *starred* review, says:
"Levy's novel is charming but not fluffy. Sara has a truly unique tween voice, with her concerns about big-picture issues never diminishing the importance of her need for a new hair look or a burgeoning friendship with a fellow traveler…Its engaging main character makes it a truly memorable read."
You can pre-order your copy online or go into your friendly local bookstore! I can't wait to share Sara's story with everyone!
January 2017
Oh dear. Apparently I don't update the news section. Ever. I am going to come up with a better system of sharing news with readers and bookish folk, but for now, I'll continue to slink in here, shamefaced, and post seriously out-of-date updates. SORRY.
So. WHERE WAS I? Oh yes! There are less than four months out from the arrival of my cross-country train book, THIS WOULD MAKE A GOOD STORY SOMEDAY. So…filing this under B for Better late than never, here's a gander at the fabulous cover.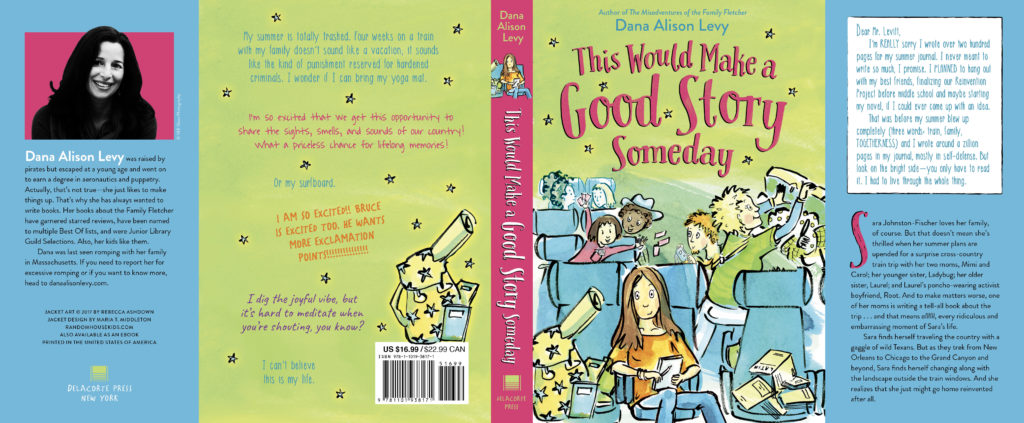 Those folks at Delacorte and that amazing Rebecca Ashdown do some good stuff, amirite??
You can also add the book on Goodreads, if you're inclined, or even pre-order it! (including on the giant web retailer, if you must).
Also, I had a blast talking books and publishing — and random cat facts — with Paul Durham, amazing author of THE LUCK UGLIES series. His podcast, Telling Lies to Children, is a lot of fun. At least, we thought so. Check it out here, and let us know what you think.
And as always, check out the links to my Facebook author page and Twitter, where I am marginally better and updating the world on what's happening, book-wise.
September 2016
This is a little embarrassing. It seems I…erm…never announced that I had sold a new book. And since it's written and I've seen the cover and everything, I think it's really happening.
So, without further ado:
*blares trumpet*
*waves pom-poms*
I'M DELIGHTED TO ANNOUNCE THAT I HAVE A NEW NOVEL COMING OUT IN THE SPRING OF 2017!!!
While not a family Fletcher story, the new book, THIS WOULD MAKE A GOOD STORY SOMEDAY, is ever-so-slightly related: it tells the story of Ladybug and her family, from the point of view of Sara Johnston-Fischer, Ladybug's twelve-year-old sister.

Find out more on the Books page, and stay tuned for the (fabulous) cover reveal and more!
May 2016
Oh my goodness, IT IS HAPPENING!! The Family Fletcher Takes Rock Island is coming out THIS MONTH!!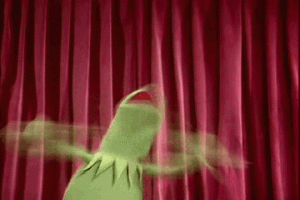 This is a barely adequate descriptor of how I feel.
The book has gotten some great love so far. In addition to the Kirkus star (mentioned below), School Library Journal, in a starred review, said "A must-have middle grade family story with contemporary sensibilities." There are also more totally awesome reviews from Booklist and Horn, but for some reason I can't link to them. You'll just have to take my word for it.
In addition to all these lovely words, the book is currently an Amazon Editor's Choice for May, which means it's on a pretty spectacular list!
As I said below, I'll be doing some fun events this month and into June to celebrate the newest Fletcher adventure.
May 14th, 1:00 pm Bank Street Bookstore, NEW YORK CITY: Join me and three other amazing authors, Melanie Conklin, Erin Kelly Entrada, and Laura Shovan at Bank Street Bookstore! Find out more here!
May 22nd, 4:00 pm Jabberwocky Bookshop NEWBURYPORT MA: Hometown launch party at Jabberwocky! There will be shenanigans and whoopie pies — come join us!
June 4th, 3:00 Blue Bunny Books and Toys, DEDHAM MA: Join me, Claire Legrand, Jen Malone, and MarcyKate Connelly talking magic and mayhem in kids books at the Blue Bunny.
More dates to come…stay tuned!
April 2016
Don't even start with me. I know, I know, I've been horrible about updating this thing. But…I've been trapped under a large piece of furniture (otherwise known as the draft of my next book) and couldn't get to my website.
So! With no further ado, here are some updates!
EVENTS!! I am all over the place (literally, for once) this spring! Come and see me…links and details to come soon.
April 7th – Maine Reading Roundup Conference
April 9th – Cape Elizabeth Literacy Festival! I'll be there with loads of other awesome kidlit authors — come by and say hi!
April 30th – Newburyport Literary Festival! I'll be doing a panel with the wonderful Elizabeth Atkinson – check it out! Newburyport Literary Festival
Then…I am ridiculously delighted to announce that THE FAMILY FLETCHER TAKES ROCK ISLAND will be in the world on May 10, 2016. And you can find me babbling about it in a few different places. Stay tuned for more details!
May 13th, Bank Street Books, New York City
May 22nd, Jabberwocky Bookshop, Newburyport MA
June 4th, Blue Bunny Books, Dedham, MA
SHAMELESS SELF-PROMOTION!
As I mentioned above, the next Fletcher adventure is coming soon, and the reviews are starting to come in.
In a starred review, Kirkus said, "There is constant action and delightful humor, but there are also realistic present-day problems and happy solutions. An old-fashioned summer adventure set in a very modern world, this lively family tale will leave readers impatient for more."
Other lovely (and starred!) reviews will be shared soon!
Okay, I think those are enough updates for now. Happy spring, all.
September 2015
Good grief. I am not going to rant about how I can't believe it's September already, and where did the summer go, and tempus fugit, and so on. Because that is boring and probably anyone reading it is in the same boat.
So instead, I'll simply say that I am at long last able to share the GORGEOUS cover for the family Fletcher's next (mis)adventure, The Family Fletcher Takes Rock Island. Where is this magical cover, you ask?? Right. Here. The wonderful Mr. Schu, whose blog Mr. Schu reads is an incredible source for all educators and parents and lover of kidlit, hosted an exclusive cover reveal today, (September 9, 2015, in case anyone needs specifics). So head over and take a look. I'll get the new cover up on the website in the next few days, but for now…if you need me I'll be gazing at Mr. Schu's blog.
July 2015
Happy summer, Internetlandia! Hope that everyone is frolicking in some body of water, or curled up in a shady spot with a book, or partaking of some summer-ish fun somewhere. I am doing my usual spinning-like-a-top routine, trying to have ALL THE FUN and do ALL THE WRITING and visit ALL THE FAMILY and so on. But there is some news to share, and more coming soon! (Cue portentous music):
I'm incredibly pleased and proud that The Misadventures of the Family Fletcher has been included in We Need Diverse Books' new project. WNDB, in partnership with School Library Journal and American Booksellers Association, has put together a series of booktalking kits to help librarians, teachers, parents, and booksellers put diverse books into readers' hands. Please check out their great work on their website and download the kits to use!
Today's news is that the paperback edition of The Misadventures of the Family Fletcher, complete with sneak peak at the sequel, The Family Fletcher Takes Rock Island, comes out on July 14! So if you are looking for all the shenanigans but less hardcover, now's your chance!
If your summer, like mine, involves logging dozens of hours in the family car, can I suggest you listen to the amazing Dan Woren narrating the audiobook of the Fletchers? He is wonderful and it makes the hours fly by! The book was also just highlighted as part of Listening Library's #HearDiversity campaign — learn more about that here!
Meanwhile, I will also just say that the Fletchers might be speaking some more languages, so stay tuned! Also, I saw an early view of the cover for The Family Fletcher Takes Rock Island and…WOW. I can't wait to share it with everyone later this year.
Also stay  tuned for information school visits. I did a bunch of school visits last year and adored having a chance to talk to kids about writing, reading, language, word choice, revision, and cat barf. Am I right for your school? Contact me and let's talk! More information will be up on the site this month, but feel free to email in the meantime.
Okay! Back outside…the sun is shining and summers are short!
May 2015
So the big and delightful news of May, (which I've been waiting to share FOREVER), is that The Misadventures of the Family Fletcher and The Family Fletcher Takes Rock Island wird sowohl in Deutsch veröffentlicht!!!!! (If you are wondering what that means, it means they will both be published in German)! I of course will not be able to read them, but am thrilled that these stories will get to travel overseas and hopefully amuse people in a whole new language!
Closer to home, I will be doing some really fun events this month, and hope folks can come and join me:
First, on Wellesley MA on Thursday, May 21 I will be with five other AMAZING authors at Wellesley Bookstore. Seriously, you guys, I'm not being overly modest when I say I'm the least of the attractions. Lynda Mullaly Hunt, Jen Malone, Lauren Magaziner, AJ Paquette, and Tara Dairman will all be there, so trust me, it's going to be awesome. Check out more information here: http://store.wellesleybooks.com/event/middle-grade-panel
Then, New York City, Saturday May 3o is the KIDS AUTHOR CARNIVAL!!!!!! This event, which is free and open to the public, is an absolute fiesta of amazing authors playing charades, challenging each other (and your kids) to literary Truth or Dare, and generally causing mayhem and chaos at the Jefferson Market Public Library. I participated last year and had more fun than is legal in several states, and also got to buy signed books from tons of incredible authors. Check out the link and come on down! http://kidsauthorcarnival.tumblr.com/
Whew. I exhausted myself with all those exclamation points. I think I need a nap.
April 2015
There has been all kinds of news, and I am horribly remiss in sharing it. Once again, I urge people to follow me on Twitter and Facebook if they want to be kept up-to-date on events, shameless self-promotion, or frequent photos of cats. Meanwhile, here are some updates:
First, I will be joining some amazing children's books authors in Cambridge, MA on Saturday, April 11. Find out more about the event, hosted by Wondermore and held at Lesley University, by checking out this link: http://www.wondermoreboston.org/events/
There are more events coming up this spring, and I will endeavor to post them here as soon as I get details (however who are we kidding, I really encourage you all to check my Facebook page and Twitter because we all know how I am about updating this page).
Also, in the from the Department of SSP* I offer some fun accolades for THE MISADVENTURES OF THE FAMILY FLETCHER! It has shown up on the following lists:
Bank Street College of Education Best Books of 2014 (starred review)
National Public Radio's Best Books of 2014
Boston Globe Best Books of 2014
ALSC (Association for Library Services to Children) Notable Book
CCBC (Cooperative Children's Book Center) 2015 Choices list
I am so thrilled and delighted that librarians, teachers, and others are finding their way to the family Fletcher. Huge thanks to all who have read it and passed it on.
*Shameless Self-Promotion…according to my publisher I need to do this occasionally.
November 2014
MOAR FUN EVENTS IN NOVEMBER!!
NOVEMBER 24, Greensboro, NC: If you are in Greensboro, North Carolina, then you should know and love independent bookstore Scuppernong books — and hopefully you will come there and see ME! I will be there, reading, signing, and generally causing mayhem, on Monday, November 24, at 7:00 pm. Bring your kids, bring your friends, bring your kids' friends and your friends' kids! More details here!
November 29, Medford, MA: I am thrilled to join up with writer friends Jennifer Malone (AT YOUR SERVICE) and Jennifer Mann (SUNNY SWEET IS SO NOT SORRY)  at the Bestsellers Café Bookstore in Medford Massachusetts. We will be talking about our books, and about how to "bring the funny" (and hopefully being funny in the process)! We'll also be selling books as part of #IndiesFirst Small Business Saturday supporting local independent bookstores. Join us there for our panel, at 11:00 am, or stop in anytime after 10:00 for a chance to have me talk your ear off about all my favorite books! To learn more about the event, check this out!
November 29, Newburyport, MA: I will also be at the glorious Jabberwocky Bookshop in Newburyport, Massachusetts on #IndiesFirst Small Business Saturday. From 2:00 – 5:00 pm I and a bunch of other local authors will be milling around, getting in the way, and generally causing trouble at our favorite book store. Stay tuned for more information!
Here is a bit more information on the awesome Brunch and Books event. There's a link to the event here, and one to the brunch menu (YUM!) here. Hope you can make it!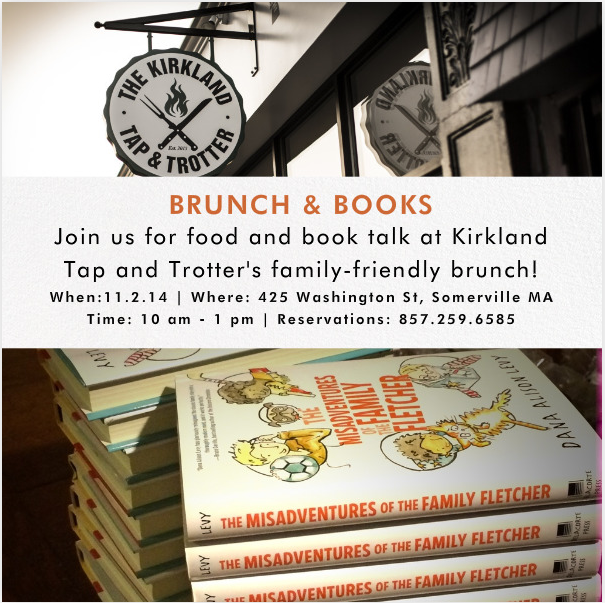 More information coming soon, but consider this a save-the-date for a really fun event: Books and Brunch at the amazing Kirkland Tap & Trotter restaurant on Sunday, November 2nd! Join me for a fabulous brunch in internationally world famous* chef Tony Maw's more casual family-friendly restaurant in Somerville MA, and you can feed your brain as well as your tummy with THE MISADVENTURES OF THE FAMILY FLETCHER. More details coming soon.
*No seriously, he's totally famous. He's also one of my oldest friends, but I'm not making up the famous part, I swear.
October 2014
I am turning over a new leaf and trying to make these events updates a little less last minute (ish)! So…drumroll please…OCTOBER!
Join me on October 4th at 10:30 a.m. at the Newburyport Public Library for a combination book reading/signing and kids writing workshop. More information to follow, but for now, put Saturday, October 4th on your calendar!
September 2014
UPDATE: I have one more September event before the month winds down. Join me and excellent picture book authors Ben Clanton and Paul Czajack at The Andover Bookstore on September 27th at 1:00. We will be talking books, signing books, and juggling books, all for your entertainment!* For more information about the event click here:
http://hugobookstores.com/event/ben-clanton-dana-alison-levy-paul-czajack-childrens-event-andover
*LEGAL DISCLAIMER: I can't actually juggle and I have no idea if Paul Czajack or Ben Clanton can either.
Good grief. I have completely failed at keeping up with news here. I will throw out, as an excuse, that I've been wrapping up the first draft of A FLETCHER FAMILY SUMMER (known to me as the Sequele…said in a French accent). ANYWAY!
First and foremost, if folks are in or around Cambridge, Massachusetts on Saturday, September 6th, please come see me and three other terrific kidlit authors at Porter Square Books! You can get all the details here!
http://www.portersquarebooks.com/event/middle-grade-mavens-dana-allison-levy-jen-malone-anna-staniszewski-jennifer-ann-mann
I will try to get better about posting events more than a few days before they're happening. And if you haven't already, toddle over to my Facebook page or Twitter, where I'm somewhat better about keeping up.
In other bookish news, the Fletchers have gotten some great reviews! The New York Times (yes, THAT New York Times!!!!!!!!!!!!), wrote:
While "The Misadventures of the Family Fletcher" seems like the perfect book for children with two fathers or mothers, Levy's underlying message has broad appeal: No matter who your parents are, or what their sex, no matter what you look like or whether or not you were adopted, your family, and everyone else's, is absolutely crazy. And that's just as it should be.
You can read the rest of the review here.
Then The Boston Globe got in on the act! That reviewer wrote, very kindly:
Levy is a natural-born story-teller, who handles her tale with deft pacing and subtle comic timing.
*blushes*
The rest of that article is here.
Then Booklist reviewed it, saying:
This delightful offering is reminiscent of Jeanne Beardsall's Penderwicks books, along with other stories that hearken back to an earlier, golden age of family stories.
(I can't link to the rest of the Booklist review because sometimes the internet confuses me and this is one of those times).
And finally, Horn Book wrote:
Levy provides a compelling, compassionate, and frequently hilarious look at their daily concerns. Family rituals such as each boy getting the meal of his choice on the first day of school are presented with warmth and humor. By book's end readers will want to be part of (or at least friends with) this delightful family.
(again, no link because WHY INTERNET WHY??)
So really, I am beyond thrilled and delighted that people are reading and loving THE MISADVENTURES OF THE FAMILY FLETCHER. What a wonderful summer it's been. Thanks to all who have cheered them on.
August 2014
NEW EVENT: August 2, 2014 4:00 pm @ Eight Cousins Bookstore, Falmouth, MA
I am beyond delighted to go down to the best bookstore I've never gone to (yet): Eight Cousins Bookstore down on Cape Cod. I have met and adored both the outgoing owner Carol and one of the incoming owners Sara, and I'm so thrilled I get to head down to meet with their book club and sign some books.
If you're down on the Cape that Saturday come join us!
See details below:
http://www.eightcousins.com/event/eight-wonders-book-club-1
July 2014
HEY MY BOOK COMES OUT THIS MONTH!! HEY GUYS!! NO REALLY IT DOES!!! Erm…sorry. I'm just a little bit excited.
If you want to join me in my spazziness excitement, then please, come to Jabberwocky Bookstore in Newburyport MA on July 20th, 3:00 pm! I will be celebrating the launch of THE MISADVENTURES OF THE FAMILY FLETCHER with books, yummy treats, and giveaways! You can RSVP on the Facebook event page, if you're inclined, by clicking here. Or, here's more information – hope to see you there!
http://jabberwockybookshop.com/event/july-20th-3pm-local-author-dana-levy-celebrates-publication-her-new-childrens-book-misadvent-0
There will be some more events coming soon…watch this space!
June 2014
MOAR NEWS!!! BIG NEWS!!!
I am disgustingly excited to announce that I get to write another book about the family Fletcher! Yes, that's right, Delacorte Press/Penguin Random House has been forcibly coerced purchased another book about the Fletcher boys, their dads, and their ever-increasing menagerie. Tentatively titled A FLETCHER FAMILY SUMMER, the new book will come out spring 2016! (Yes, that is a long time from now. No, it can't come any sooner. Yes, I am really really really excited!!)

In other news, (still exciting, just not so crazypants exciting): THE MISADVENTURES OF THE FAMILY FLETCHER received a lovely starred review from School Library Journal. You can read all the nice things they said here. But if you just want the good part and are too lazy to click, here you go:
"With its semi-episodic structure, laugh-out-loud humor, and mix of zaniness and love, Levy's debut offers something truly significant: a middle-grade family story featuring gay parents and interracial families that is never about either issue. Fans of Beverly Cleary's Quimbys, Judy Blume's Hatchers, and, more recently, Jeanne Birdsall's Penderwicks will fervently hope that more Fletcher misadventures are yet to come."–Jill Ratzan, I. L. Peretz Community Jewish School, Somerset, NJ
Nice, right? Happy summer, everyone! Here's to long days and starry nights!
May 2014
It is lilac season, people, which means I might be found poaching around privet hedges with a pair of clippers clutched in my hand. (I never poach lilacs from small bushes, but only from the massive 50 foot hedges where surely no one would miss a few blossoms). Anyway, once I am done skulking in the hedges I will share my exciting News o' the Month!!
P.S. I realize this is a very Braggy McBrag sort of list. I could share less complimentary news, like the fact that I forgot to pay my car excise tax bill and and got a STERN LETTER in the mail. Or the fact that water seems to be pouring in through our chimney and I'm not quite sure what to do about it. But that's pretty boring, so let's get to the good stuff.
THE MISADVENTURES OF THE FAMILY FLETCHER is a Junior Library Guild selection!
Kirkus gave THE MISADVENTURES OF THE FAMILY FLETCHER a starred review! Thanks guys!
Those wacky Fletcher boys are also on the Indies Next List! That's right, THE MISADVENTURES OF THE FAMILY FLETCHER is an Indies Next Summer Pick! Check out the rest of the list here!
I will be at the first ever Kids Author Carnival in New York City on May 31!! Even better? Around a zillion (okay maybe not quite that many but still) amazing kids' authors will be there too! If you're in New York come see us!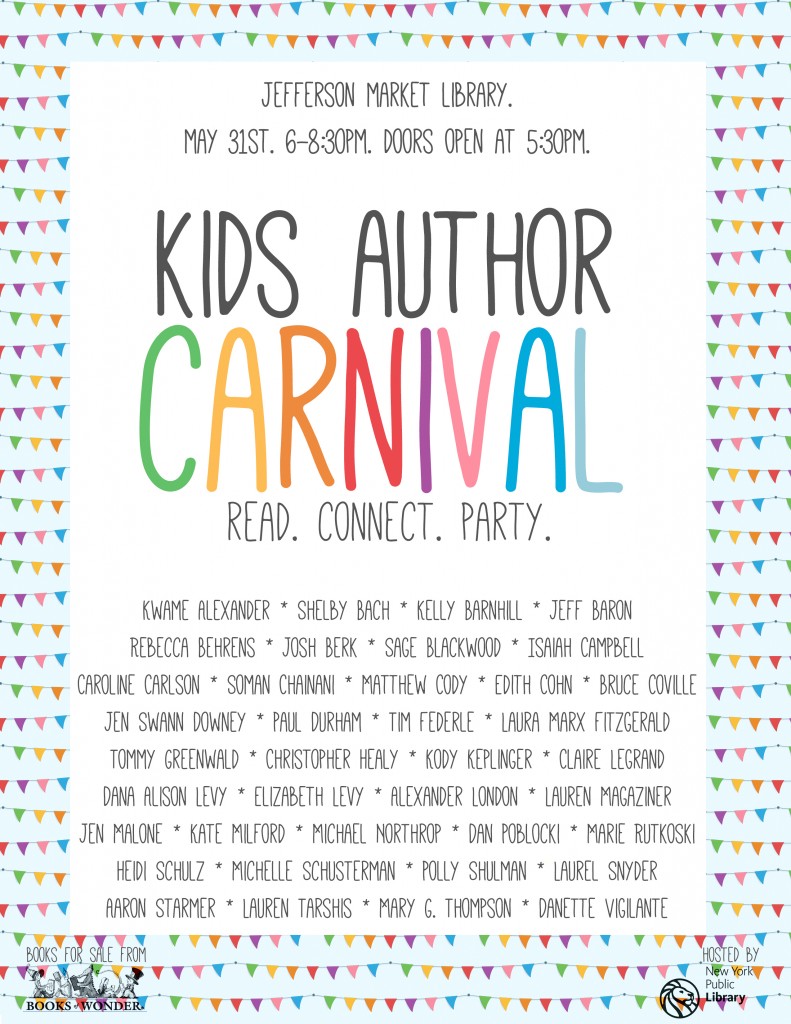 April 2014
Ah, so much news to share! First of all, it is the season of both Easter candy and matzoh balls here at my house, and I'm spending my time in a carbohydrate-fueled tizzy over the fact that my book comes out in LESS THAN THREE MONTHS! While I could share news of how many times the cats ate that weird fake grass that comes in Easter baskets then gacked it back up on the rug, I'll focus on more…erm…literary subjects. Such as:
The American Booksellers Association chose THE MISADVENTURES OF THE FAMILY FLETCHER as one of their Summer/Fall Indies Introduce New Voices selections! I'm beside myself with glee to be one of three middle grade books chosen! Check out the announcement here.
THE MISADVENTURES OF THE FAMILY FLETCHER is also available on Netgalley if you want to apply for an e-book review copy. If you are a blogger or librarian or teacher or other bookish sort, check it out here.
This spring I'll be off doing bookish and writing-ish things, and while I'm not "officially"* on the schedule at any of these events I will be wandering around looking for free candy, looking to talk books and writing. So send me an email or a tweet if you're around!

New England Society of Children's Book Writers and Illustrators (NESCBWI), Springfield, MA. May 2-4.
Book Expo America (BEA), New York, NY. May 29-31.
American Library Association (ALA), Las Vegas, NV. June 28-29.
*by not "official" I don't want to suggest that I am sneaking in under velvet ropes or through fire doors. I am buying a ticket, and my attendance will be completely legal and aboveboard. Just clarifying.
Okay, more news as it's fit to print. *wanders off to find the pastel colored M&Ms*
February 2014
It's over in its very own shiny blog post, but YES MY COVER IS THE BEST COVER IN THE WHOLE ENTIRE UNIVERSE!!!
(Can you tell I love it?) Check it out over here:
January 2014:
UPDATE! I do have some actual book news, and I'm remiss in sharing it!
First of all, it beyond exciting to me that The Misadventures of the Family Fletcher will not only be a hardcover beauty and a sleekly technological ebook, but it will also be an AUDIOBOOK released by those excellent folks at Listening Library/Random House Audio!!! I have THOUGHTS and IDEAS and such for who should read this book, but that is still all to be determined in the future. But whoever it is, I hope he or she will find it as fun to read as I know I'll find it to listen to!
The second piece of news is that my book has a cover! And a back cover! And inside flaps with words on them! And a spine! AAAHHHHHHHHHH! I will be sharing it shortly, and then everyone can see how awesome it is.
———-
Oh I have all kinds of news. But here are some headlines:
Experts say there is an over 50% chance of no sorted laundry tomorrow before school. They warn household members to stay alert and be prepared to start their morning playing sock bingo with the mass of clean laundry dumped on the couch.
In sports, Small Daughter's ice hockey team is struggling with an 0-5 record, but statistics don't tell the whole story. Tune in for the next 6:00 a.m. game to witness the grit and guts in action.
Academic markets gave strong showings in the first quarter, causing teachers to raise grade expectations to points of irrational exuberance. Older more patient analysts caution them to temper their projections in anticipation of the expected Thanksgiving holiday slump.
Oh. Wait. You wanted real news? Like about my books?
Well. That's coming soon. Sorry for any misunderstanding.